Western Journal of Emergency Medicine (WestJEM): Integrating Emergency Care with Population Health (WestJEM) is the premier open-access Medline-indexed EM journal in the world. As the official journal of California ACEP, American College of Osteopathic Emergency Physicians (ACOEP) and the California chapter of American Academy of Emergency Medicine (AAEM), the journal focuses on how emergency care affects health and health disparities in communities and populations. Additionally, WestJEM focuses on how social conditions impact the composition of patients seeking care in emergency departments worldwide. WestJEM is distributed electronically to 19,000 emergency medicine scholars and 2,800 in print. This includes 83 academic department of emergency medicine subscribers and 8 AAEM State Chapters.
Since our start in 2007, WestJEM has made great strides to provide the highest quality journal. Here are some quick facts:
WESTERN JOURNAL OF EMERGENCY MEDICINE: ALTMETRIC STATISTICS
WestJEM ranks 6th out of 35  Emergency Medicine publications in total mentions by means of outlets such as: news, blog, policy, patent, peer-reviewed, and social media.
WESTERN JOURNAL OF EMERGENCY MEDICINE: SCOPUS AND SCIMAGO EMERGENCY MEDICINE JOURNAL RANKING 
Scopus Journal Metrics of Emergency Medicine ranks WestJEM 18th of the 75 considered journals. Scimago Emergency Medicine Journal rankings place WestJem 10th of 94, the 3rd highest mark for open access journals in Emergency Medicine.
AVERAGE TIME FROM SUBMISSION TO PUBLICATION
Average time in 2019 
Time until first decision
Time from acceptance to electronic publication
Time from submission to electronic publication
74 days (~2.4 months)
22 days (~0.7 months)
142 days ( ~ 4.7 months)
Title and author
The psychopharmacology of agitation: consensus statement of the American Association for Emergency Psychiatry Project BETA Psychopharmacology Workgroup
MP Wilson, D Pepper, GW Currier, GH Holloman Jr, D FeifelSecond Impact Syndrome
T Bey, B OstickCombining ketamine and propofol ("ketofol") for emergency department procedural sedation and analgesia: a review
S AroraValidation of the Social Security Death Index (SSDI): an important readily-available outcomes database for researchers
J Quinn, N Kramer, D McDermottVerbal de-escalation of the agitated patient: consensus statement of the American Association for Emergency Psychiatry Project BETA De-escalation Workgroup.
JS Richmond, JS Berlin, AB Fishkind, GH Holloman, SL Zeller, MP Wilson, MA Rifai, AT NgUse and avoidance of seclusion and restraint: consensus statement of the american association for emergency psychiatry project Beta seclusion and restraint workgroup
DK Knox, GH Holloman JrHigh school students' perceptions of motivations for cyberbullying: an exploratory study
K Varjas, J Talley, J Meyers, L Parris, H CuttsCrowding and delivery of healthcare in emergency departments: the European perspective
N Jayaprakash, R O'Sullivan, T Bey, SS Ahmed, S LotfipourNonreciprocal and reciprocal dating violence and injury occurrence among urban youth
MH Swahn, M Alemdar, DJ WhitakeUltrasound-assisted peripheral venous access in young children: A randomized controlled trial and pilot feasibility study
AE Bair, JS Rose, CW Vance, E Andrada-Brown, N Kuppermann
TOP 10 REQUESTED ARTICLES ACCORDING TO PUBMED CENTRAL
Title and author
Verbal De-escalation of the Agitated Patient: Consensus Statement of the American
Association for Emergency Psychiatry Project BETA De-escalation Workgroup
JS Richmond, JS Berlin, AB Fishkind, GH Holloman, SL Zeller, MP Wilson, MA Rifai, AT NgA Case of Complicated Urinary Tract Infection: Klebsiella pneumoniae Emphysematous Cystitis Presenting as Abdominal Pain in the Emergency Department
KR DhingraOutlaw Motorcycle Gangs: Aspects of the One-Percenter Culture for Emergency Department Personnel to Consider
AN Bosmia, JF Quinn, TB Peterson, CJ Griessenauer, RS TubbsFatal Metformin Overdose Presenting with Progressive Hyperglycemia
JR Suchard, TA GrotskyFluoxetine Overdose-Induced Seizure
JR SuchardThe Clinical Differentiation of Cerebellar Infarction from Common Vertigo Syndromes
JA Nelson, E ViirreFracture Blisters
CM Uebbing, M Walsh, JB Miller, M Abraham, C ArnoldThe Standard of Care: Legal History and Definitions: the Bad and Good News
P Moffett, G MooreImaging in Acute Stroke
D Birenbaum, LW Bancroft, GJ Felsberg Current Trends in the Management of Difficult Urinary Catheterizations
PA Willette. S Coffield
TOTAL VIEWS FROM PUBMED CENTRAL, WESTJEM.ORG AND WESTJEM.COM FROM 2008 TO PRESENT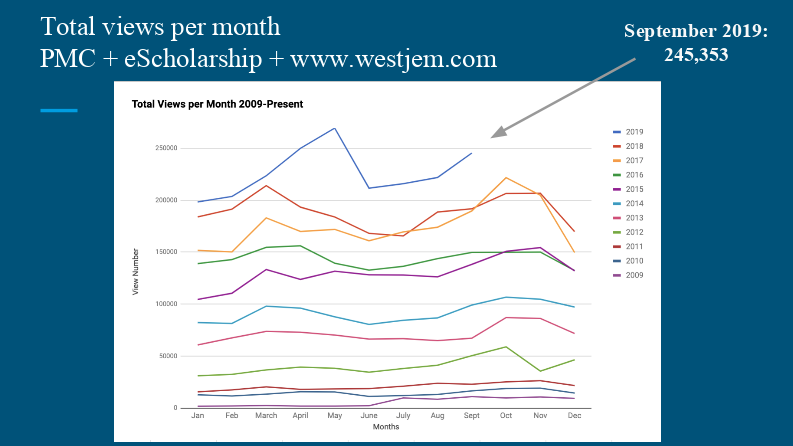 TOTAL REQUESTS
WestJEM BY THE NUMBERS